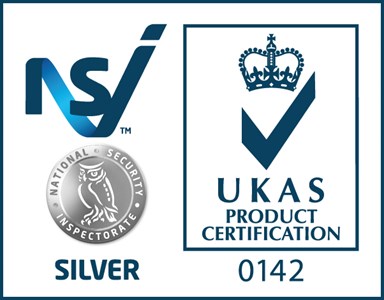 The National Security Inspectorate (NSI), formerly known as NACOSS is an independent, not for profit approvals body providing inspection services for the security and fire industries.
The NSI exists to improve standards for the benefit of customers of the security and fire industries?
They work closely with the insurance industry, whose steadfast support over more than 30 years has helped to reduce risks and keep insurance premiums at a minimum.
Not only do they inspect approved companies with consistent rigour, but they also add to our knowledge and best practice by interpreting Standards in depth and offering an unparalleled level of technical advice. To achieve and maintain the NACOSS standard, PPS Ltd must fulfil the following criteria:
All NSI approved companies:
· meet the most rigorous entry standards in the UK
· are subject to comprehensive ?Repute of Management? checks
· meet all relevant British and European Standards for technical performance
· have received 10 year security vetting for staff
· must train staff to industry best-practice standards
· are fully insured to protect customer interests and staff
· are inspected every six months by professional auditors including a sample of customers? sites

The Police
NSI works closely with the police, developing solutions in partnership on complexe issues, such as the management of false alarms, by operating a memorandom of understand. Monitored intruder alarms installed and maintained by NSI approved companies meet the requirmented of the assiciation of chief police officers ACPO.

The insurance companies
NSI works closley with the insurance industry rasing standards and helping to reduce risk, keeping insurance premiums to the minimum. Insurance companies acknowladge this professionalism and frequantly specifiy NSI approved companies.
The National Security Inspectorate is the leading approvals and certification body that inspects companies providing home security, business security and fire safety services. Choosing an NSI approved company ensures that the contractor you select works to the highest recognised industry standards as demanded by the Police, Fire and Rescue Services and insurance industry.
ces for the security and fire industries.